KGNU, KUNC, & Daily Camera Present
Blind Boys of Alabama Holiday Show
with
The Longest Day of the Year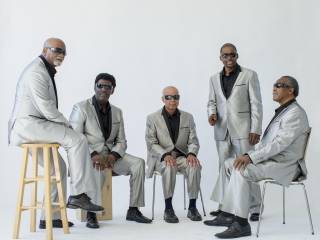 Event Information
As a teenager, Bon Iver's Justin Vernon dreamed of working with his heroes, except his weren't the typical heroes for a kid growing up in the Midwest during the 1990s. When his friends were getting into punk and hip-hop, the seventeen-year-old Vernon was obsessed with gospel music. As teenagers, he and his best friend—and future band mate—Phil Cook steeped themselves in its sound and history, devouring every record they could get their hands on: Sam Cooke and the Soul Stirrers, the Swan Silvertones, the Dixie Hummingbirds, Mahalia Jackson. "We leaned on each other for discovering new gospel music," Vernon recalls, "and we spent years studying and going back to the big cornerstone gospel groups and singers."
This eclectic and intensely devoted education would later shape the music they made together—first, in DeYarmond Edison, and separately, in Vernon's group Bon Iver and Cook's band Megafaun. "Gospel music for me has always reminded me of being a child," muses Cook. "When you're a little kid and you love something, it's such an honest love. It's a pure example of what I like to think of as the inescapable. You just can't escape the music you love."
By their twenties, the two friends had discovered the Blind Boys of Alabama, who opened up a new world of seemingly endless musical possibilities. Says Vernon: "What was different about those early 2000's Blind Boys records was that first, they were on Peter Gabriel's Real World label, and second, they were doing Tom Waits tunes and playing with dudes we recognized from the blues and folk scenes."
What impressed them, in other words, was the Blind Boys' loose definition of gospel music, which allowed the singers to measure the spiritual dimensions of rock and pop songs, of blues music, of funk and folk and everything in between. The Blind Boys of Alabama aren't merely a group of singers borrowing from decades-old gospel traditions; rather, they are themselves the group who helped define and cement those traditions during the course of the twentieth century and well into the twenty-first. They first sang together at the Alabama Institute for the Negro Blind in Talladega in the late 1930s. To put that in perspective, the group predates the attack on Pearl Harbor and the development of the twelve-inch vinyl album  (only '78s' were available at the time). When they began singing together, "separate but equal" was still a sad summary of race relations in the United States.
Touring throughout the South during the Jim Crow era of the 1940s and 1950s—when blacks were denied the use of whites-only water fountains, bathrooms, and restaurants—the Blind Boys persevered and even flourished thanks to their unique sound, which blended the close harmonies of early jubilee gospel with the more fervent improvisations of hard gospel. During the 1960s, they sang at benefits for Dr. Martin Luther King Jr. and provided a soundtrack to the Civil Rights movement, which adopted both the Christian message and the dignity of old gospel songs. During the late 1960s and throughout the 1970s, gospel groups that had originated in the church began recording secular music, yet the Blind Boys of Alabama stuck to their calling. "We sing gospel music," says Carter. "That's what we do. We're not going to ever deviate from that."
Few would have expected them to still be going strong—stronger than ever, even—so many years after they first joined voices, but they've proved as productive and as musically ambitious in the twenty-first century as they did in the twentieth. In 2001, they released Spirit of the Century on Peter Gabriel's RealWorld label, mixing traditional church tunes with songs by Tom Waits and the Rolling Stones, and winning their first Grammy Award. The next year they backed Gabriel on his album Up and joined him on a world tour, although a bigger break may have come when David Simon chose their cover of Waits' "Way Down in the Hole" as the theme song for the first season of The Wire. The HBO series remains critically regarded as the greatest television show ever aired. Subsequent Grammy-winning albums have found them working with Robert Randolph & the Family Band (2002's Higher Ground), a plethora of special guests including Waits and Mavis Staples (2003's Go Tell It On The Mountain), Ben Harper (2004's There Will Be a Light), and the Preservation Hall Jazz Band (2007's Down in New Orleans).
Nearly seventy-five years after they hit their first notes together, the Blind Boys of Alabama are exceptional not only in their longevity, but also in the breadth of their catalog and their relevance to contemporary roots music. Since 2000, they've won five Grammys and four Gospel Music Awards, and have delivered their spiritual message to countless listeners. "We appreciate the accolades and we thank God for them," says Jimmy Carter, a founding member and the Blind Boys' leader for five years now. "But we're not interesting in money or anything other than singing gospel. We had no idea when we started that we would make it this far. The secret to our longevity is, we love what we do. And when you love what you do, that keeps you motivated. That keeps you alive."