97.3 KBCO, KGNU & Daily Camera Present
World Blues ft. Taj Mahal Trio, Vusi Mahlasela & Fredericks Brown ft. Deva Mahal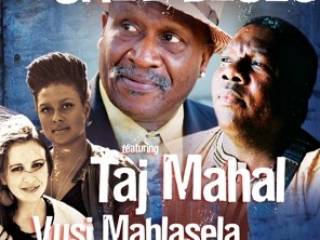 Event Information
"World Blues" is a celebration of American blues music's global influence, as seen from three international points of origin and thus three very diverse points of view. Anchored by the iconic folk-blues legend Taj Mahal, the evening will also include the soulful South African blues of guitarist/vocalist Vusi Mahlasela and the modern rock 'n roll perspective of Fredericks Brown, a band featuring Mahal's daughter Deva Mahal, who hails from New Zealand.
Taj Mahal Trio
Composer, multi-instrumentalist and vocalist Taj Mahal is one of the most prominent and influential figures in the blues and roots music scene of the late 20th century. Though his career began over four decades ago with American blues, Mahal has broadened his artistic scope to include music representing virtually every corner of the world-West Africa, the Caribbean, Latin America, Europe, and the Hawaiian Islands don't even begin to cover his range of influences. It is Mahal's insatiable interest in musical discovery that ties everything together: over the years, his passion and curiosity have led him on trips around the world, journeys that gained him invaluable experiences and resulted in the global perspective that can be heard and felt in his music today.
Vusi Mahlasela
Simply known as "The Voice" in his home country, Vusi Mahlasela is widely celebrated for his powerful and distinctive voice that delivers poetic and often optimistic lyrics. Mahlasela's latest album Say Africa (2010) is packed with songs that paint pictures of freedom, revolution, love and life. Raised in South Africa's Mamelodi Township, a place he still calls home, Mahlasela became a singer-songwriter and poet-activist at an early age after he taught himself to play guitar and later joined the Congress of South African Writers. After his popular 1992 debut with When You Come Back on BMG Africa, Mahlasela was asked to perform at Nelson Mandela's 1994 inauguration. To this day, Mahlasela remains committed to spreading Mandela's message as an official ambassador to Mandela's HIV/AIDS initiative.
Fredericks Brown featuring Deva Mahal
From the beautiful islands of New Zealand comes Fredericks Brown, the musical collaboration of vocalist Deva Mahal and keyboardist Steph Brown. Renowned for their energetic live shows, rich harmonies and beautifully crafted songs, Fredericks Brown's music fuses the cultural heritages of both band members: Mahal, daughter of the legendary blues musician Taj Mahal, draws on her rich soul and blues roots, while Brown's sound is rooted in the organic Pacific sounds of her native New Zealand. Between the two of them, Fredericks Brown has worked with Kanye West and Common, billed with artists like De la Soul, Alice Russell, and Etta James, and performed in theaters and clubs all around the world.